This quick guide explains the nuts and bolts of a winning cannabis business plan. 
Why is a business plan so important?
It lays out a detailed process to obtain licenses, pitch to investors, and manage your team. 
You wouldn't go to war without a battle plan, and you wouldn't build the next great cannabis empire without a business plan. 
By the time you're done reading this article, you'll know exactly what it takes to capitalize on the "green rush."
Let's get after it!
Why You Need a Cannabis Business Plan
Your cannabis business plan serves three main functions:
Proves to local and state agencies that you're going to abide by their regulations and run a successful business.

Shows investors that you're worth investing in.

Establishes actionable procedures for your team.
The bottom line is, you have to convince outside entities, your team, and yourself that your project isn't going to flop, and that's exactly what a business plan does.
3 Types of Business Plans
Two for them and one for you…
You need a regulatory-based plan, an investment-based plan and an operations-based plan for each of your key audiences: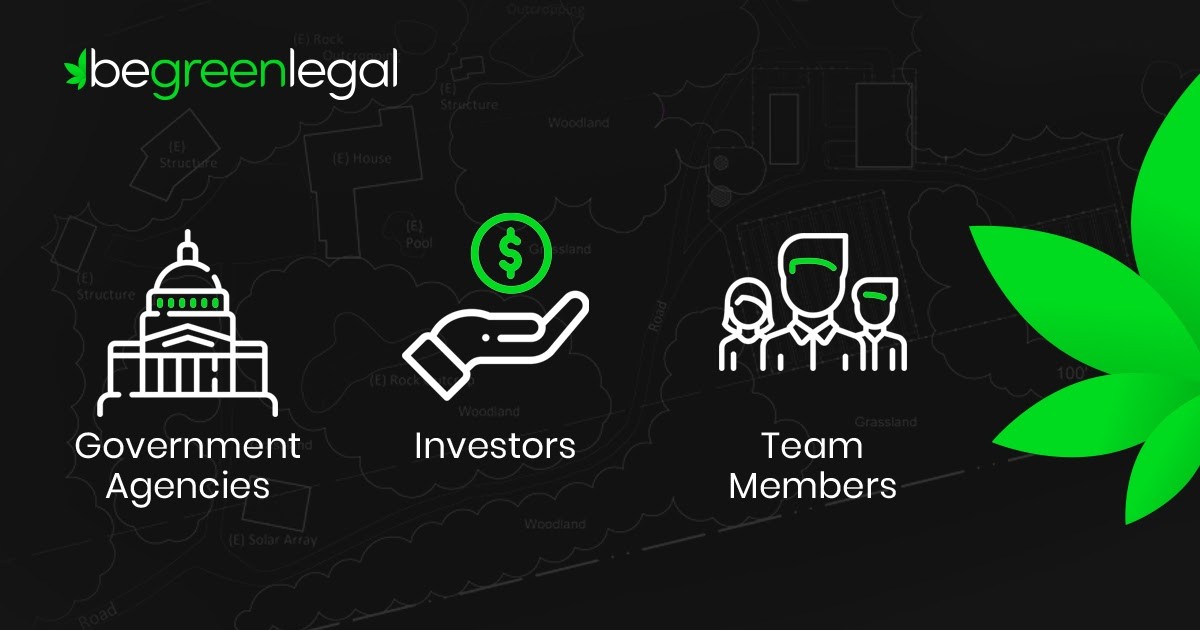 Government agencies

Investors

Team members 
Here's how these three types of cannabis business plans stack up:
1. Regulatory-Based
A regulatory-based cannabis business plan is the one you turn into local and state licensing agencies. 
It keeps you in check with the long list of standard operating procedures (SOPs) that require compliance and dives deep into how your project aligns with the required regulations, including:
City standards

Land use restrictions

Building codes

Public safety codes
It also covers cannabis-specific regulations and any others that may pop up.
This section alone can be up to 10 pages long.
Your project won't even make it off the ground if you aren't in the good graces of your friendly government regulators, and that's why obtaining permits and licenses should be your main focus.
Depending on the city/county where you're located, there can be a lot of extra ordinances to adhere to. 
Unfortunately, failing even one of these codes can get your application denied.
Regulators also review for completeness, and if you're missing just one detail, they'll most likely ask you to reapply.
This asures local and state agencies that you understand how to stay in compliance and that you're going to follow through.   
Now let's take a closer look at how to assemble your regulatory-based business plan:
Sections of a Regulatory-Based Business Plan
NOTE: This same general format can also be used with investment-based and operations-based plans.
Section #1: Intro
Your introduction, which can also be referred to as "summary," is essentially your sales pitch. It's a broad overview of the major points in the document, communicated in a way that draws the reader in and gets them interested in your business. 
Section #2: Principal Qualifications and Entity Structure
Think of this section as a bio about yourself and your business. 
It should answer the question of who you are, the structure of your business, and what makes you qualified.
Here's a great article on how to convince regulators that you deserve to get licensed. 
Section #3: Permits and Licenses
In this section you list all the laws that you have to abide by and the permits and licenses you'll need. 
Local government agencies require land use permits, operator permits, and building permits, and it's up to you to demonstrate that you understand how to comply. 
For example, with building permits, you need a certification of occupancy before you can actually use the building.
Cultivators and other businesses that impact the environment might also have to apply for special permits and waivers, including:
Once you've obtained approval from your local government and supporting agencies, you'll be ready to apply for your state cannabis license. 
State approval involves agencies like the Bureau of Cannabis Control, Department of Public Health, and Department of Food and Agriculture.
The good news is that you should already have most of these requirements fulfilled after gaining the approval of local agencies. 
Section #4: Property and Business Location
Is your property zoned correctly? Is your building the right type of use classification?
Believe it or not, the zoning of your neighborhood is just as important as the zoning of your actual property. 
State law dictates that you stay at least 600 ft away from schools, daycares and youth centers and local governments may require greater distances. 
The catch is that what defines a youth center is usually pretty vague. 
This means you have to knock door-to-door on every building in that radius in order to make sure none of them are youth centers. 
Section #4 also includes a detailed description of your property, any improvements you plan to make, and how you satisfy planning and building codes. 
Are you currently in the process of finding a compatible location for your cannabis business? Find out if our Property Search, Compatibility, & Acquisition Package is right for you. 
Section #5: Operations
Provide a basic description of your organization structure and what you're going to do each day.
Do you have managers, staff people, delivery drivers, growers?
Section #6: Neighborhood Compatibility
Local ordinances protect residents against noise, smells, and other nuisances that may disturb the enjoyment of their property. 
Other factors, like security, discretion, and hours of operation might also make your operation incompatible with the neighborhood. 
Other Areas That May Require a Separate Plan
Accounting and record keeping

Labor and employment

How are you going to give back to the community?

How will you educate the public about your product?

Insurance (liability, bonding, vehicle, product insurance)

Taxes
2. Investment-Based
An investment-based cannabis business plan is the one you use to gain investors. 
It includes a list of marketing strategies, overhead costs, revenue and profits.
For investors, local and state procedures are nothing more than an obligatory hurdle—what they really care about is how likely they are to make a profit. 
Your investment-based plan crunches the numbers and answers the following questions:
What problem are you trying to solve?

What's the solution?

What's your business model?

What's the market? 

Who are the owners of the business?

What's the competitive landscape?

What are the barriers to entry?

What are the key hurdles to overcome? (ex: land, money, permits, license, property, building improvements)

Where are you at in your journey and what do you need? (ex: funding requirements and the use of funds)

How does an investor get involved? (i.e. provide multiple ways for investors to get involved)
And finally, an investment-based plan provides a valuation of how much the business is worth.
3. Operations-Based
An operations-based cannabis business plan is the one that you use internally to run your business. 
In other words, it's an SOP manual for what you and your team will do day in and day out to stay in compliance and have a profitable business. 
Believe it or not, an operations-based plan is heavily tied to the facilities plans. 
Unfortunately, one of the most common oversights is to rush through the building design process.
As a result, you can end up with an inefficient building that eats away at your bottom line. 
Buildings have to be designed with specific needs in mind, like ventilation, space for workers and climate control.
Some projects may even require multiple climate zones, air showers, installs, etc.
Your operations-based business plan creates a synergy between how the facility is built out and the operations that go on inside. 
It also takes into consideration how your employees will manage inventory and comply with regulations, including:
Service development

Inventory management

Customer service

Human resources

Accounting

Proprietary marketing

Packaging standards
If this sounds like a lot to juggle, don't worry, we specialize in making sure all the subtle details are aligned. 
Are you starting a cannabis business and looking for help planning and navigating the licensing application process?
At BeGreenLegal, we are fully equipped to help businesses at every checkpoint in the licensing process. 
Schedule a 90 minute consultation with one of our expert cannabis consultants and we will give you key insights about:
Application and licensing process

Available license types and business models

Financial expectations

Funding options

Recommendations for your situation
We'll help you fast track your cannabis education and get your specific questions answered. At the end of the consultation you'll have a clear sense of what you should be doing to successfully move forward.